| | | |
| --- | --- | --- |
| Penyelenggara | : | S3 IRS |
| Lokasi | : | Zoom Meeting |
| Waktu | : | Wednesday, 20 April 2022 |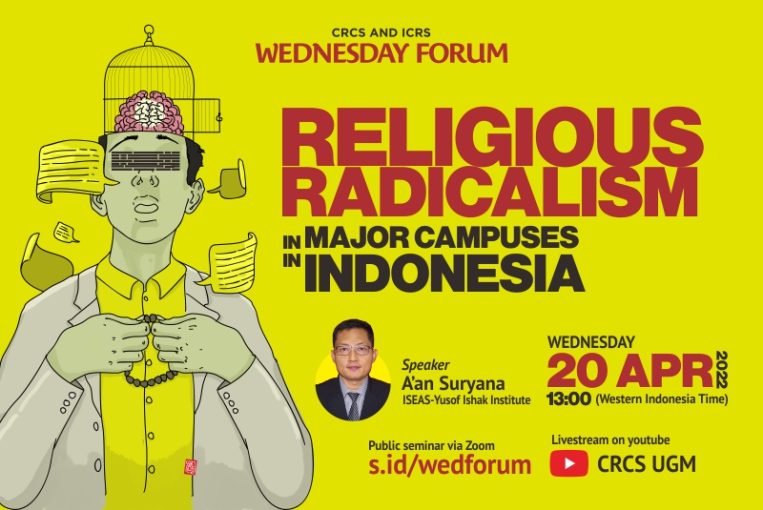 Religious extremism among students in major campuses in Indonesia remains a cause for concern for Indonesian government officials. Several social and political surveys, journal articles and scholar reports have presented and discussed the rise of religious extremism among youths in Indonesia. But few have discussed religious extremism among students in Indonesian universities. This webinar aims to explore what cause Indonesian university students to subscribe to extreme ideas of Islam and also, to analyse the effectiveness of government and campus policies in tackling student religious extremism in Indonesia major campuses. This webinar argues that university students are lured to subscribe to religious extreme ideas due to increasing religious extremism narratives in public or private spheres. These narratives are internalized in the minds of university students in systematic and structured ways, through regular meetings and online postings, and through public events such as webinars organized by student organizations that promote extreme ideas of Islam. The internalization of such ideology is exacerbated with the lack of narratives on moderate Islam in public and private spheres. The government and campus authorities have formulated and implemented strategies to tackle the religious extremism problems among university students, but they largely work in silos, hence their strategies are not fully effective. This webinar is based on, among others, in-depth interviews with student activists, campus authorities and government officials during a one-month-long fieldtrip in some major campuses in Yogyakarta, Jakarta and Bandung between October and November 2021.
A'an Suryana, Ph.D. is Visiting Fellow at ISEAS-Yusof Ishak Institute, Singapore. His areas of interests are Good Governance, MinorityStudies, State Practices, National Security (Communal Violence, Conflict Resolution andTerrorism), Political Islam, Media Studies & Freedom of Information. His book, which is based on his dissertation, has been published by Routledge entiteled The State and Religious Violence in Indonesia: Minority Faiths and Vigilantism. He has also published in some reputable regional and international journals, including Asian Studies Review and South East Asia Research. This presentation is based on his publication from ISEAS-Trends in Southeast Asia 2022 series entitled "Religious Extremism in Major Campuses in Indonesia".